"Our career assessment showed that 80 percent of these social work graduates are working in geriatrics," Volland said.
Starting in September 2007, Sunha Choi, an assistant professor of social work at Binghamton, conducted a yearlong assessment of graduate students who were in these rotational geriatric field placements to discover if they were developing more skills and a greater interest in the field.
Students measured their gerontological competencies in four areas: values and ethics; assessment; intervention; and aging services, programs and policies. They completed a self-assessment scale before, midway through and following the academic year. The department also recorded student focus groups answering questions.
In May, the students reported gains in knowledge and experience through the program. In direct contrast to September, they could identify specific areas in which they would like to gain additional knowledge and skills.
One student said, "If you asked me last semester, if I wanted to (work with older adults), I would have said no, not really. But I actually applied to some of the assisted living social work positions. … There is so much you can do other than just hospice with the elderly."
Jennifer Marshall, director of field education for the MSW program at Binghamton, noted that through the variety of field placements, graduate students observe firsthand the final stage of human development.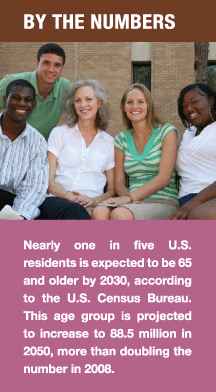 "They learn about the issues that affect different types of elderly people," Marshall said, "and through assessments, determine the appropriate level of service from those social services available in the community."
Heidi Bowne of Binghamton, who received her MSW in 2008, was placed in two Broome County social service agencies: the Council of Churches' Faith in Action Volunteers and the Association for Vision Rehabilitation and Employment Inc.
"I felt privileged to hear what people said about their lives and the challenges they faced as they aged and how they accommodated them," Bowne said.
For the Council of Churches, Bowne assessed the needs and interests of individuals requesting assistance. This allowed volunteer care providers to be compatibly matched with clients. She also saw that these volunteers might provide much-needed transport for AVRE clients. The Broome County Office for Aging will have another MSW intern explore how agencies might expand their transportation services.
Bronstein said this sort of insight is exactly what can be gained when social work students have regular interaction with elderly clients.
"Geriatric social work specialists," Bronstein said, "can connect older adults to the community services that will improve their quality of life and provide them with less expensive care. These geriatric social workers will be at the forefront of practice, program development and policy change to support all of us and our caregivers as we age."

— Katherine Karlson
<< Back
page 1 | page 2