A MESSAGE FROM THE PRESIDENT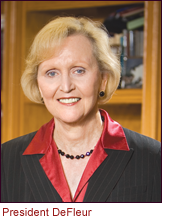 When scholars from different fields collaborate in deep and meaningful ways, they often arrive at new perspectives and challenge commonly accepted views. At Binghamton University, these efforts include partnerships of engineers and management experts as well as poets and musicians. It requires commitment as well as time for faculty members with such varied backgrounds to develop meaningful projects and a certain kind of courage to go beyond the familiar terrain of one's own discipline. The University's goal is to nurture the initial phases of these projects with campus grants because we believe in the potential and rewards of multidisciplinary work.
At their best, these collaborations reward the risk-takers with unexpected innovations and even artistic breakthroughs. This was the case last year, as faculty composer Paul Goldstaub and Martin Bidney, professor emeritus of English, worked to set poetry to music. They allowed the research magazine to follow them through the creative process, from basic recordings of Martin reading poems he had translated to Paul's revelation that the poems could be performed in song as a dialogue between people in a relationship. The composition will come to life in a concert of new music on campus this year.
I hope you will enjoy the opportunity to accompany them on their musical journey, just as I hope you will enjoy the sampling of other faculty research and scholarly work presented in our magazine.

A MESSAGE FROM THE VICE PRESIDENT FOR RESEARCH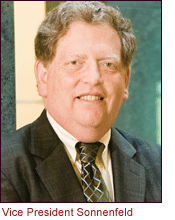 Creative people and innovative ideas come together every day at Binghamton University, resulting in a symphony of discovery that's making itself heard across New York state and around the world. Our faculty members are conducting research that may one day ease the troubling side effects of Parkinson's disease treatment, protect your laptop computer from damage if it falls and revolutionize the way you search for information on the Web. Other experts are challenging commonly accepted views of topics such as economic history, youth violence and caring for the elderly. One especially exciting interdisciplinary collaboration promises to change the way we understand decision making and teams.
Through the Office of Technology Transfer and Innovation Partnerships and our unique industry collaborations— as well as through publishing, teaching and performing — the University community brings these breakthroughs to a wider audience. On that note, I'm pleased to say that our faculty members received a record number of new patents last year. We also recorded a nearly 60 percent increase in licensing revenue.
Binghamton research expenditures grew by 3 percent in 2007-08, bucking a national trend of flat or even falling figures. In addition, awards to our researchers rose by more than 20 percent last year. It's all evidence of our sound strategy at work.