Dynamic faculty-industry collaborations fostered by Binghamton University's Center of Excellence result in breakthroughs in disciplines ranging from chemistry and physics to computer science and mechanical engineering.
The projects also help to speed up the process of discovery in new areas, said Bahgat Sammakia, director of the Small Scale Systems Integration and Packaging Center (S3IP). He noted that flexible electronics — one of the center's core strengths — is such a new field that there aren't many "rules" hindering creativity. "If you don't have too many standards, then you have a lot of freedom," he said. "You can do more research and discover new things."
An unusual model governs the interaction between faculty researchers and companies that are members of S3IP's Integrated Electronics Engineering Center (IEEC) or Center for Advanced Microelectronics Manufacturing (CAMM ).

At the beginning of each year, there's a meeting during which representatives of member companies discuss their research interests. "They give a perspective of shortterm, mid-range and long-term issues as well as whether it's a research challenge or a research and development question," Sammakia explained. "These are nonconfidential talks, so we post them on the Web and even faculty who did not attend can access them."
Faculty members follow up with questions and develop research proposals. Company engineers evaluate the proposals and help prioritize them for funding and the interests of the center. Sammakia chooses 10 to a dozen projects for funding through the IEEC and a similar number for the CAMM . "Each project has not only funding but also mentors," Sammakia said. "They can work together."
Eric Cotts, professor of physics at Binghamton and co-director of the University's Materials Science and Engineering Program, has researched lead-free solder with support of the IEEC. Strong interactions with people in industry have influenced the focus of his work, he said.
"Corporations tend to distill a problem and have a lot of money focused in particular areas," Cotts said. "It's an engineering approach. They tend to distill a problem down to its basic physics. … It's a good marriage, if you can find a problem where you can work on the basic concepts and use their characterization of the problem. It's fun."
Cotts said he and his colleagues have taken work they've done with industry partners such as IBM, Texas Instruments and Universal Instruments and then developed funding proposals for state and federal sources. "It's important to do basic science just for the sake of science," he said. "And it is good to work with industry. Binghamton is a nascent university. It's a relatively small campus. There are a lot of bright people in industry and it's interesting to talk to them. It's stimulating. It's a great experience for students, too, especially if only 1 in 20 will become a professor."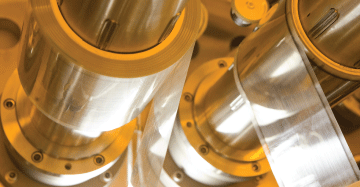 Faculty members present reports three times during the year. Member companies evaluate the research and offer feedback. This, Sammakia said, is what sets the process apart from other campus-industry projects. The funding model has been around for a while, but it's the feedback mechanism that helps ensure that projects stay on track and that the results will be useful to the sponsors.
Junghyun Cho, associate professor of mechanical engineering at Binghamton, is working on projects related to thin films through both the CAMM and IEEC. The work could lead to flexible solar cell devices and provide materials and processes that will make electronic devices smaller and lighter.
Cho said that in one case the sponsor feedback gave him the confidence to continue with his work, knowing that it did indeed "make sense." Other projects, he said, just wouldn't have happened without the industry collaborations.
page 1 | page 2