Francis Wu is using bubbles, explosions, sensors and seismographs to look deep beneath the Earth's crust. The lead investigator on a team of international scientists working on a project of unprecedented scope, Wu intends to capture the first high-def, 3-D image — a virtual MRI — of the abstruse forces at work in the growth of an active, young mountain range.
By using explosive devices to send shock waves through the Earth's crust and upper mantle and by employing emerging technologies to record and "image" the Earth using the wave, the project could help scientists around the globe find subsurface faults and better understand how tectonic forces act to build mountains. This knowledge will ultimately enable scientists to predict earthquakes more reliably.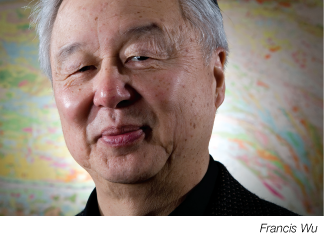 "I often joke that when we talk about blind faults, we are talking only about faults that we as geologists can't see," Wu said. "But we may be able to image them with seismic waves; and once we can locate small earthquakes at crustal depth precisely, we can determine whether these faults are active."
Seismic waves produced by earthquakes, explosions or controlled vibrating sources are the primary method of underground exploration. They will also be the key in Wu's project to unlock the mysteries of mountain building and tectonic activity that gives rise to earthquakes.
By sending waves through the Earth's crust and upper mantle with a series of controlled explosions, and by sensing, recording and tracking waves from natural seismic events in the crust, the deep mantle and the core of the Earth, Wu's team intends to develop a virtual three-dimensional image of the crust and upper mantle under Taiwan. Wu compares the process to that used by doctors to "see" cancerous tumors deep within the body using magnetic resonance imaging (MRI).
Seismic shock waves bend inside the Earth because of changes in speed as they move through material of different density, composition and temperature. Abrupt changes in direction occur at the boundary between two layers, affording researchers using advanced technologies the opportunity to see what lies deep beneath the surface.

A professor of geophysics at Binghamton, Wu has spent a significant portion of his research career doing fieldwork in the eastern hemisphere, most recently in East Asia. Having worked in Tibet and New Zealand among other regions, he is now concentrating on Taiwan. The small island nation, shaken by about 15,000 detectable earthquakes a year, provides an extraordinary in vivo laboratory for Wu's current project known as TAIGE R (pronounced "tiger"), Taiwan Integrated Geodynamics Research.
Funded by the National Science Foundation and headed up by Wu, the five-year, $8 million TAIGE R project involves nine investigators from six U.S. institutes, one from a Canadian university and scientists from five Taiwanese universities, as well as Taiwan's Institute of Earth Sciences and renowned Academia Sinica, supported by the National Science Council of Taiwan.
The project calls for a comprehensive set of geophysical experiments that will help researchers determine the locations, factor the scale and impact, and obtain multi-scale images of the forces at work within the Earth's crust and upper mantle during manmade and natural seismic events.
Wu's approach to earthquakes is respectful, but far from fearful. It's clear he realizes that when the Earth stops quaking, breaking and belching forth gases and rock, we'll be in more trouble than most of us would care to imagine. That's because for all their unwelcome devastation, earthquakes and volcanoes provide irrefutable planetary "proof of life," not to mention supporting many conditions necessary for it.
"Although a lot of people think of earthquakes and volcanoes as destructive, as long as they are going on, we are assured the Earth is alive," he said. "We know that the Earth has heat inside and the heat is escaping, and that inside the Earth, it is still churning very slowly … convecting." The geothermal heat produced is an important energy source.
Furthermore, scientists have found a liquid outer core composed of iron and nickel. The convective churning generates the magnetic field that shields us from cosmic particles and has guided man's travels through the ages, Wu said.
The churning of the Earth's outer layers results in the shifting of the huge tectonic plates that make up the Earth's crust, giving rise, albeit through disparate processes, to earthquakes and volcanic eruptions. The plate movements led to the mountain building in Taiwan and elsewhere.
But the movement also churns up materials from deep within the Earth, catalyzing complex chemistry that is critical to the formation of the very organic compounds from which life first arose.
So in the grand scheme of things, it seems life itself is caught between a rock and a hot (or cold) place. In spite of our growing concerns that too much environmental CO2 might soon turn the planet into a hothouse unsuited to most species currently dwelling here, some carbon dioxide is essential.
page 1 | page 2