Surgeons use it to fine-tune risky procedures and to learn new ones. Pilots, firefighters and police use it to practice life-saving skills of their own. And before astronauts or aircraft inspectors enter a real shuttle or airplane, they spend many hours using it to "experience" all sorts of problems and complications that can arise in complex aeronautical equipment.
It is virtual reality, and thanks to a unique project at Binghamton University, it will soon take its place as an important tool in training the operators of hugely complex and expensive machinery involved in electronics manufacturing and packaging.
"I'm confident that this is going to work because of how virtual reality has worked in other industries," says Mohammad Khasawneh, an assistant professor of systems science and industrial engineering at Binghamton. "The beauty of virtual reality is you're doing everything offline. If you make an error, it's not going to cost money or affect safety. And you can also give immediate feedback to the operators to improve their performance."
Khasawneh's research may one day marry Greater Binghamton's historic strength in simulators with the University's developing reputation as a leader in electronics manufacturing and packaging.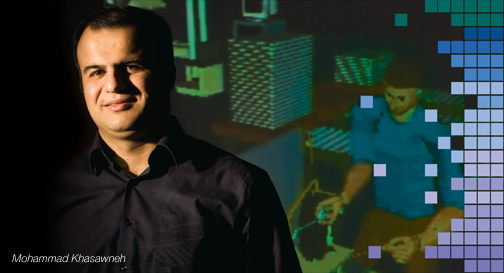 The work builds on research Khasawneh did while a doctoral student at Clemson University, where he was involved in the creation of a virtual-reality simulator based on the L10-11 aircraft's cargo bay. The project, supported by NASA , helped train inspectors in how to inspect different areas of the aircraft before a flight.
That was less than 10 years ago, but the field has changed dramatically since then, Khasawneh notes. Back then, users wore goggles and sessions were limited to 30 minutes for safety reasons. Now, virtual reality systems have become more portable; some can even be run from a desktop computer.
Virtual reality has also made great strides in terms of what's known as the "level of immersion" offered by programs. That is, how closely does the virtual environment match the actual environment? Experts classify a program's level of immersion as low, medium or high. As the level of immersion increases, the person's feel of presence in the virtual environment increases as well.
In general, the higher the level of immersion, the higher the price tag for the program. While there are numerous variables, virtual-reality applications can cost thousands of dollars or more to design.
So why use them in training?
That question is less likely to come up when you consider the cost of "operator error" for a surgeon, for example. But even when human lives aren't at stake, errors can still have huge costs in terms of broken equipment or badly manufactured products.
When it comes to electronics manufacturing, virtual reality could also reduce the immense cost associated with training at a central location. Khasawneh recently designed a prototype of a virtual reality model to train people to use a machine built by a Greater Binghamton company. Normally, the company holds a series of training sessions, including a five-day workshop that's only offered in Binghamton — even for customers in China. But when it comes to complex equipment, operators mostly end up relying on on-the-job training.
"They get very limited exposure to the actual machine until they go back to their companies and start using it," Khasawneh says.
Virtual-reality training could change that process dramatically, offering operators individualized feedback as they learn to use the machine in addition to a virtual tour of the machine and a look inside at how its components move. Companies could skip the trip halfway around the world, or arrive in Binghamton ready for a more nuanced, in-depth class.
page 1 | page 2