Personality disorders and severe psychopathology such as schizophrenia present arenas of inquiry long clouded by myth, misperception and grand theory, often confounded by inexact science. Mark F. Lenzenweger cuts through that murky shroud, using innovative data-analysis techniques to get answers to some of his field's most perplexing questions.
"The mindbrain- behavior interface of genomics, neurobiology and psychology requires more sophisticated methods than prior approaches in psychological science have allowed or even considered," said Lenzenweger, a distinguished professor of psychology at Binghamton University. "The problems are complex and need to be understood in a rigorous way. That's a theme that has run through my career in psychopathology research."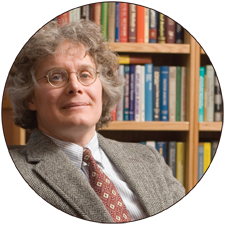 Psychologists tend to limit their statistical toolbox to fairly simple methods. Lenzenweger's interest in more nuanced, complex approaches sets him apart. "To reveal order in data, you need to let it represent itself the way it really is," he said. "And if you really want to tackle problems as nature delivers them up, then you have to get into the data, get your hands dirty and dig into it, sometimes with complicated methods."
To gather data on thorny problems, especially in the study of schizophrenia, Lenzenweger, an internationally recognized scholar and researcher in the area of experimental psychopathology, uses laboratory measures that offer more precision than was possible in previous eras. "It's the difference between making a rough guess and using a ruler," he said. "We do not say, 'That looks like 1 foot and 9 inches.' We measure it."
In addition to his faculty post at Binghamton, Lenzenweger is a senior research and clinical fellow at New York-Presbyterian Hospital's Personality Disorders Institute and an adjunct professor of psychology in the Department of Psychiatry at Cornell University's Weill College of Medicine. His collaborative work there focuses primarily on the enigmatic condition known as borderline personality disorder.
He has also edited six books, published nearly 100 papers in refereed journals and uncovered ground-breaking findings that undo past misperceptions about personality disorders. He is writing a monograph on schizotypy – the liability, or risk, for schizophrenia – and research methods.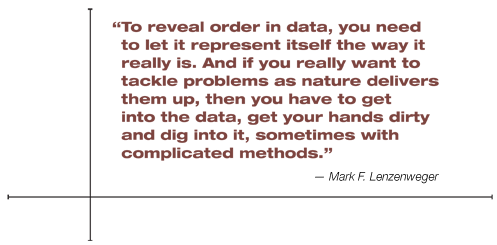 Lenzenweger pursues two major programs of psychopathology research. The first focuses on schizophrenia and schizophrenia-related disorders. Schizophrenia, which affects 1 percent of the population, is a devastating illness that exacts a significant toll on those affected, their family members and society at large. For many years it was thought poor parenting practices led to schizophrenia; this erroneous view was debunked by research that focused on genetic factors. Researchers now know that genetic influences account for about 80 percent of the factors that cause schizophrenia.
A particularly malignant feature of schizophrenia is that it usually begins early in life, appearing between the ages of 13 and 25. As a result, it spells a lifetime of challenges for affected individuals, their families and the larger communities concerned with their well-being
"It just screams out to be solved as a public health problem," Lenzenweger said. "I view it as something that demands our attention. It has always felt to me like the right battle to be fighting in mental health. It's a real illness, not a 'myth' or 'label' as suggested in the 1960s. It's based in the brain, it ruins people's lives and it has a major genetic component."
Lenzenweger's latest study in schizophrenia, which tested subjects' eye movements and attention, was the first to confront the long-debated question regarding the structure of schizotypy using laboratory measures. It was also revolutionary for its use of two mathematical techniques, called finite mixture modeling and taxometric analysis.
The techniques made it possible to divide research subjects into just two groups, those putatively at risk for schizophrenia and those not at risk. Other assessment techniques have generally failed to allow for this binary solution, and have instead forced researchers and treatment providers to assign graded risk assessments that afforded no one a clean bill of health.
In this study, Lenzenweger collaborated with Geoff McLachlan at the University of Queensland in Australia and Donald B. Rubin of Harvard University, both leaders in the application of new statistical methods to health-related problems. Their findings were published in 2007 in the prestigious Journal of Abnormal Psychology.
Lenzenweger compares some of the logic of the theory behind the study to measuring the temperature of water. At some point, even if the temperature of the water is monitored continuously as it is heated to a boil or cooled to freezing, critical moments can be determined. So too is the case when it comes to schizophrenia. In short, one can measure something along a continuum or graded dimension, but, at some point, important transitions appear in the data.
"There may be a host of genetic factors that contribute to the risk for schizophrenia, but there may be tipping points or thresholds that are really meaningful, akin to the change in state from a liquid to a solid or from a liquid to a gas," Lenzenweger said. "And there are statistical methods to help get at that."
The project was funded by a $100,000 Distinguished Investigator Award from the National Alliance for Research on Schizophrenia and Depression. That support allowed Lenzenweger to do something risky: Rather than begin with people who had schizophrenia and study factors that set them apart, he drew more than 300 research subjects from the general community. These people were studied in the laboratory and attention and eye movement measures were taken for all 300. These data were then subjected to the finite mixture modeling and taxometric procedures for statistical analysis.
page 1 | page 2