It's vital that pregnant women seek early prenatal care. And a Binghamton researcher says that an accountable father willing to acknowledge paternity could be one of the most critical factors in predicting whether a woman actually seeks such care.
Gale Spencer, Decker Chair in Community Health Nursing, recently conducted a survey for the Central New York Perinatal Center. She examined barriers to prenatal care for women in three counties in upstate New York with particularly low prenatal care rates: Onondaga, Herkimer and Broome.
Her study confirmed some previously held assumptions, such as the idea that women with health insurance seek prenatal care earlier than those without. But it also led to some other important, potentially ground-breaking conclusions.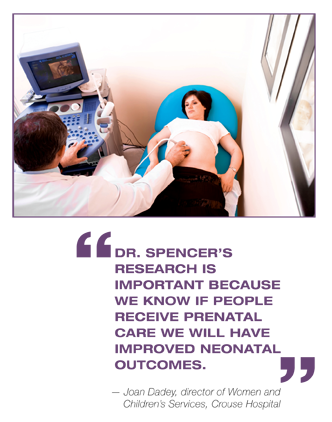 Most existing literature, for instance, suggests that minority populations tend to seek prenatal care later. But in her study, Spencer found that the amount of education a woman received was far more significant than her race in determining how soon she sought such care. That is, women without high school degrees, no matter their race, sought prenatal care far later than women with high school and college educations.
"Race is often identified as related to a health-care problem," Spencer says. "However, most frequently the problem is related to the person or aggregate's socio-economic status rather than to race. This finding, I think, is a good example of that problem."
Joan Dadey, director of Women and Children's Services at Crouse Hospital in Syracuse, N.Y., would like to see 95 percent of central New York women get prenatal care in the first trimester. But when a group she belongs to, the Central New York Perinatal Forum, recently looked at data for the three-county area involved in Spencer's study, it realized that the rate hovered down around 75 percent, a disappointing statistic that has remained relatively constant since 2000.
"What the forum looked at and really recognized as an issue was access to care," Dadey says. "We wanted to better understand why women aren't seeking care and what our initiatives could be to change that.
"Dr. Spencer's research is important because we know if people receive prenatal care we will have improved neonatal outcomes," Dadey says. "Research consistently shows that if women seek out prenatal care, receive it in the first trimester and all the way through, that we will have improved outcomes at birth."
Spencer has been researching public health at Binghamton University for more than 30 years, and she realizes that putting resources into the beginning of life can mitigate problems that might develop throughout a person's entire life.
"The major systems of the body are developed during those first three months of life," says Spencer, "and so you want to give the baby the best possible chance. Getting a mother in for prenatal care early is a positive force in having a delivery of a healthy baby."
Each of the three counties in Spencer's study presents its own problems. Onondaga is a metropolitan county without good clinics in the city. Herkimer is rural, and there are no birthing centers in the entire county; all women there must travel long distances for prenatal care. And Broome has urban and rural populations, combining the problems of both.
"What the Central New York Perinatal Forum asked of me was to give them a profile of the people seeking prenatal care after the first trimester," Spencer says. "What do these people look like? What were the barriers as perceived by the women and as perceived by the health-care providers?"
Spencer and Binghamton University colleagues Sharon Bryant, Serdar Atav, Laura McDermott and Renee Conklin studied several sources. Electronic birth certificate data gathered by each county at the time of birth was reviewed, and surveys were sent to new mothers and health-care professionals.
Dadey and Spencer agree that the most exciting finding from Spencer's study is the idea that the father acknowledging his child early in pregnancy strongly affected the mother's decision to seek prenatal care. Spencer found that if the father acknowledges that the child is his, the mother is much more likely to seek prenatal care. It's a finding with a lot of potential for inspiring initiatives to raise central New York's stagnant prenatal care rates, she said.
page 1 | page 2