Parent training programs across the nation, crafted via a "top-down" strategy that makes experts responsible for the conceptualization, design and implementation of the program, seem to view parents as the problem or obstacle to the healthy development of the child.
Project HOPE (Helping Our Parents be Educators), a federally funded, fiveyear project partnering Binghamton University's College of Community and Public Affairs and the Youth Services unit of Lourdes Hospital in Binghamton, takes a starkly different approach to parenting education and family strengthening.
There is no argument about these facts: For children to be successful and healthy and to abstain from behaviors that place them at risk, parents need to be active in the socialization of their children. They need to communicate with and educate their children about risky behaviors. They must accept responsibility for being the primary educators of their children. They must share, model and educate their children in the values they hold. They must be accountable to themselves as parents.
But programs designed to prevent problematic behavior among youth by attempting to increase parental capacity through skill development might well be undermining the very process they are designed to enhance.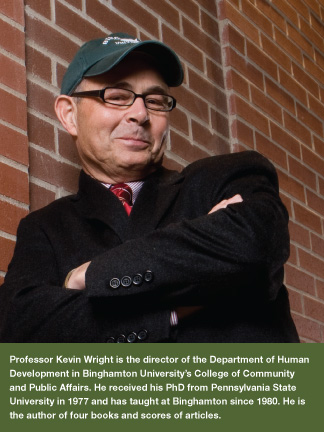 Over the years, what parents have consistently expressed to me and my Lourdes collaborators is something more poignant and more basic than a lack of parenting skills. What we hear is that many individuals feel wholly inadequate to assume the role of parent. They often struggle to accept that they have the authority and question whether they can live up to the responsibility of parenting. They fear that they may not be able to help, support and guide their children, not because they lack the skills, but because they fear they lack the wherewithal.
Parent training programs have traditionally relied on curricula written by experts in child development and family functioning, an approach that automatically places parents in an inferior role within the service provider/ parent relationship. We suspect this reinforces rather than productively addresses parental doubts and feelings of inadequacy. While designed to enhance parent/child relationships, support effective monitoring, encourage less family conflict and promote effective communication of parental expectations and prosocial values, the clearest message such programs might be sending to parents is that the service provider, not the parent, is the repository of the necessary skills, knowledge and commitment to really help children.
In designing Project HOPE, my colleagues at Lourdes Hospital and I decided to build upon some shared core beliefs. We believe, for instance, that even individuals who are struggling in life have the capacity to effect positive change in their own lives and in the lives of their children.
We believe that as they experience the possibility of effecting change in their own lives, parents will become more empowered to parent, that parents are most likely to engage in the change process when they have ownership of it and that feeling efficacious as a result of one's own performance in an endeavor will likely elicit more frequent practice of that particular behavior.
page 1 | page 2