A MESSAGE FROM THE PRESIDENT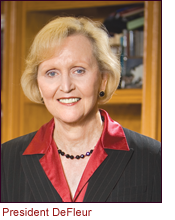 Binghamton's world-class researchers and scholars push beyond the boundaries of their fields, in some cases literally going "beyond the mantle" to solve centuries-old mysteries. They explore new knowledge with extraordinary imagination and deep understanding and seek insights that will change our world.
There are examples of this creativity at work throughout our campus. A psychologist uses innovative mathematical techniques to answer some of his field's most vexing questions. A paleobotanist examines a fossilized tree and is able to visualize the Earth's oldest forest. An engineer designs a virtual reality environment that makes training for employees in electronics manufacturing more effective — and less expensive.
Binghamton's patent applications have nearly tripled in three years and the University's grant applications are up more than 20 percent last year alone. It's no surprise, then, that our 15 percent research growth was second among New York's universities.
Multidisciplinary projects and industry partnerships deepen the impact of our research endeavors. And our mission as a public research university ensures that the benefits of this new knowledge are broadly shared.
We're excited to share a sampling of the latest Binghamton breakthroughs with you.
A MESSAGE FROM THE VICE PRESIDENT FOR RESEARCH
At Binghamton University, researchers and scholars are aided by emerging technologies that empower them to go where up until recently no one could hope to go. Using the latest technologies, our faculty members are able to dig deeper, scrutinize more closely, analyze more exactly and map important processes more accurately.
Through facilities such as our Advanced Analytical and Diagnostics Laboratories, we make available to regional industry otherwise cost-prohibitive state-of-the-art laboratory equipment. Through our Public Archaeology Facility, libraries and museums, we provide unprecedented access to public research and scholarship, supported by a wealth of informational and cultural resources and expertise.
Across the disciplines, whether they are dealing with historical data sets, small-scale electronics, fuel cells, earthquakes, ancient artifacts and climates, business practices, health trends or a host of other pursuits, researchers and scholars here are taking full advantage of technologies that allow them to identify and tap rich deposits of information never before available for consideration, let alone study. Our faculty in the humanities are making significant contributions that will likely inform policies, practices, products and planning key to the future of our communities, state and nation — and indeed to the future of the planet itself. We are in every sense of that phrase going Beyond the Mantle … beyond the superficial crust in search of discoveries and awareness that can benefit all.
But in addition to calling upon us to narrow our view and deepen our investigations, research and scholarship also requires of us the ability and the willingness to step back so that we can creatively envision and critically assess new knowledge, understanding and insights. Just a few of the important research and scholarship projects led by Binghamton faculty are presented here. We hope you enjoy the adventure.