page 1 | page 2
"If the mother identified that there was paternal acknowledgement," Spencer says, "she was much more likely to seek prenatal care during the first trimester. It was a significant indicator across race and age group. We always target women with our major campaigns about prenatal care. But maybe we should be targeting young men, and saying, you know, fatherhood begins at the very beginning and that's making sure that your baby gets good care prenatally, as well as after birth."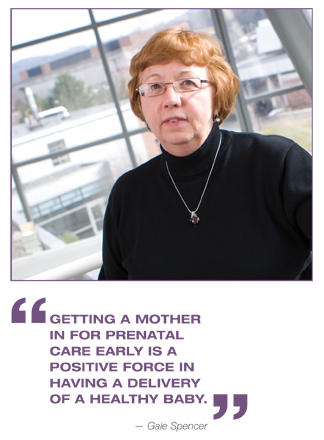 During its first three months of existence, a fetus develops all its major organs, and much more. Researchers also think blueprints for obesity and major diseases — or, conversely, for lifelong good health — are made during this time.
Getting women into early prenatal care helps to ensure that they can receive support to eat well, as well as get help in ending such harmful behaviors as smoking, drinking or using illegal drugs. The first trimester is also an important time for screening for genetic diseases.
Spencer plans to work with the Central New York Perinatal Forum to develop programming aimed at young men and women. High school health classes and established abstinence education programs would be good places to introduce the topic, she said. While she realizes that coupling abstinence education with advice on how to behave once pregnant seems counter-intuitive, she sees both as promoting the self-esteem of young people.
"I think we need to talk more about taking care of our health and taking care of the infant's health early on," Spencer says, "and about if you're going to accept the role of mother or father, then you need to take responsibility for having the healthiest pregnancy. I think those ideas need to be tied together."
Spencer's study showed that race was a much less significant factor in Broome and Herkimer counties than other studies had shown; in Onondaga County race continues to be a significant factor. In addition, lack of transportation hampered rural women's access.
Spencer's study also showed that education, insurance and whether the care came from a private physician or at a clinic also affected prenatal care access rates. While health insurance is available to all pregnant women in New York state, Spencer notes that working poor women (who make too much for Medicaid but don't have insurance through employers) often don't know about supplemental insurance programs and fall through the cracks.
"There's a large number of the working poor who are not figuring out that they can get Medicare," Spencer says. "And usually, they only figure that out when they go into the hospital and they can't afford to pay for the delivery."
Spencer plans to work with doctoral students to expand her study to the entire state, to see if her conclusions hold true across broader demographics.
— Bridget Meeds
page 1 | page 2